From 2004 to 2008, Ben Schwartz was the resident house pianist of the Providence Place Mall branch of Nordstrom. The celebrated department store is known across the country for its upscale atmosphere—often buoyed by the live stylings of pianists working at baby grands tucked neatly underneath the escalators. A microphone hidden amongst the piano strings sends the music throughout the entire store's speakers, from the first floor dressing rooms all the way up to the third floor Café.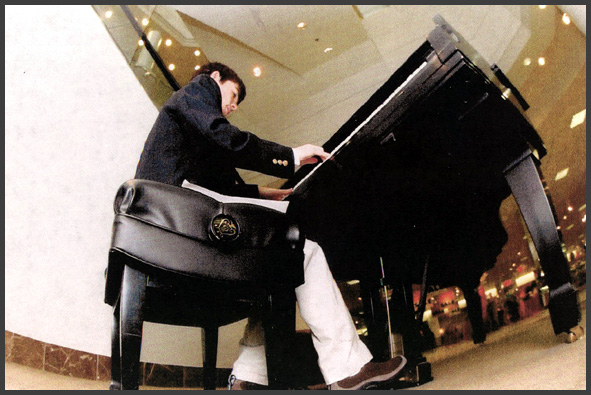 Ben's work at Nordstrom actually began some time before 2004. He was invited to perform on the Providence branch's Steinway & Sons baby grand piano as early as 2002. When each busy holiday season rolled around, Ben would be called in to handle morning and afternoon duties. He even worked the notorious "Black Friday," the shoppers' holiday which coincides with the day after Thanksgiving and the unofficial start of the Christmas season. Various other events warranted a call to Ben—such as the visit to the Providence branch of the president and CEO of Nordstrom, Inc. (a man whose last name, incidentally, is Nordstrom!).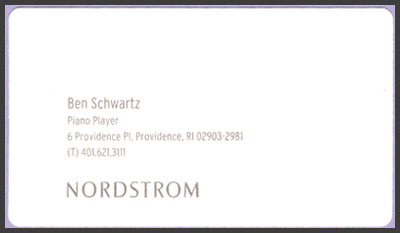 The year 2004 witnessed the actual hiring of Ben, since it was in this year that he was legally eligible to be placed on a payroll. Since that time, Ben had been a featured resident pianist of Nordstrom and had consistently tickled the ivories every week. Of the pianists on staff at the Providence branch, Ben absurdly had seniority—not in age, of course, as he was the youngest! No, he had worked there the longest! Like his work as organist of the Providence Bruins, research has all but confirmed that Ben holds the record as the youngest pianist in Nordstrom's 105-year history. Many folks stopped by on Saturdays, said hello, and saw why!