Ben's exploits with literature are numerous and diverse. They range from press attention towards Ben (the RISD Catalogue article and a brief mention in a hockey journal for his work as Providence Bruins organist) to published stories, poems, and commentary written by Ben. His most recent publication is a creative writing essay titled "Neither Here Nor There," published in the Brown University biannual, PROSPECT: an anthology of creative nonfiction. The travelogue takes the reader on a journey to a half-American, half-Canadian hinterland where the mundane must necessarily become the extraordinary. Recalling themes from King Solomon's prescription for justice to modern geo-political power struggles, "Neither Here Nor There" is a fascinating read. Check it out!
Ben's words were first published in a 1997 anthology called Mysteries, Monsters, Memories, and More VI. Published by Majestic Books of Johnston, Rhode Island, the anthology features the top stories written by Rhode Island students. Nine-year-old Ben's contribution to the anthology was "The Travel Rock," a short story in which a young rock collector has an extraordinary adventure. While looking through his prized rock collection, a boy discovers one which he has never seen before. He attempts to pick it up for a closer look, but instead it slips from his grasp onto the floor, shattering into a thousand pieces. This rock is magic, however, and just as quickly as it shattered, it puts itself back together. "What a weird sight seeing bits and pieces of rock reconstructing itself," the boy thinks. Well, that's not all the magic this rock has in store for the boy. Later in the story, he finds that his magic rock has transported him to a very special place—Orlando, FL, the theme park capital of the world! But he is somewhere that no tourist has ever been—the 180-foot zenith of the tallest theme park attraction in the city. Drama ensues.

Ben handles poetry just as well as he does prose, however, and yet another local anthology proves it. Kids Care: An Anthology of Poetry about Community Service was published in 1998, less than one year after the publication of "The Travel Rock." Ben's poem, entitled "Good Deeds," reflects on the goodwill associated with performing a good deed.
Both Mysteries, Monsters, Memories, and More VI and Kids Care: An Anthology of Poetry about Community Service were admittedly local in scope (and area of sale). Another of Ben's exploits with literature was—and is—much larger in scope (and area of sale). Why? Well, this is a national publication, found in nearly every large bookstore (Borders and Barnes & Noble, among others) in the United States. What is this national publication?
Birnbaum's is the "brand" of Disney Press which publishes the official Mickey-sanctioned travel guides to such Disney destinations as Disneyland and Walt Disney World. Disney Press publishes different versions of Birnbaum's Guides—for example, Walt Disney World Without Kids, Walt Disney World Dining Guide, and the ever popular plain old Birnbaum's Walt Disney World (insert year here). They also publish Birnbaum's Walt Disney World for Kids by Kids, and it is this edition which has benefited from the work of Ben Schwartz for the past fourteen years.
That's right. The past fourteen years. Every edition of the annually-published Birnbaum's Walt Disney World for Kids by Kids, from Birnbaum's Walt Disney World for Kids by Kids 2000 to Birnbaum's Walt Disney World for Kids by Kids 2013, has featured Ben's commentary about the quality of the "It's Tough to be a Bug!" attraction at Disney's Animal Kingdom Park. Quite honestly, there is no end in sight—Ben's attraction review is looking like it just might be a permanent addition to the book: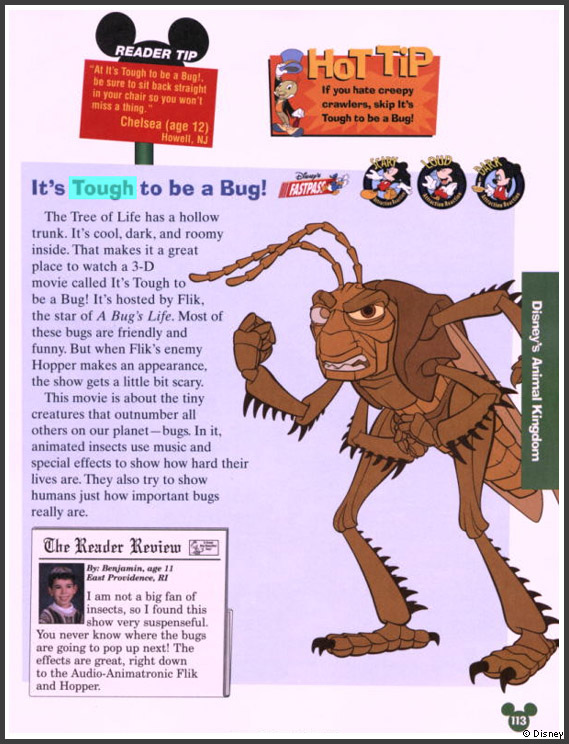 Ben's adventures with literature do not end here. He is an avid storyteller and has begun preliminary work on a children's picture book featuring his own original character, Henry the Heron™, and his friends, including Tuscany Toucan™ and Betty Bluebird™. Ben has also begun adapting a poem he wrote in the fourth grade to a picture book format. The poem, entitled "Ghouls and Goblins," is a lighthearted look at the history of Halloween.